Chianti
– not just wine in a funny bottle
We wanted to celebrate a birthday in Tuscany and bought a very good book by Martha Högström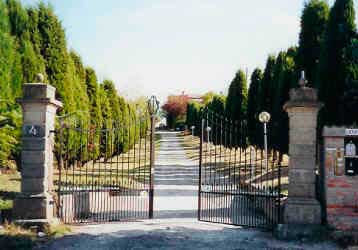 about "Toscana", about that part of Italy with beautiful illustrations in ink. We put it in our luggage and used it very often! Also the guide book about Tuscany from "Lonely planet" is just as useful, with maps of the towns and lots of information.
On searching the net we found an apartment in a small house with only two apartments and up to 6 beds. Nice, not crowded and in the countryside in the middle of Chianti, vineyards and olive trees surrounded the house.
A local travel agency helped with the air tickets and renting a car, but we booked our stay ourselves by e-mail, in Emilia Romagna at B&B Cavaione just south of Bologna, only 10 kilometres from that beautiful old town. A grand entrance, see above! Breakfast in the Mediterranean way is mostly coffee with milk and a piece of sponge cake, so we had very good, and long, lunches in town. One restaurant we had spotted on the Internet and it was a good one! Il Postiglione! Our host Davide told us about La Felina. If you are in Bologna ... ! see links below!