Great Britain
We had only one rainy day and lamb does not taste as an old cardigan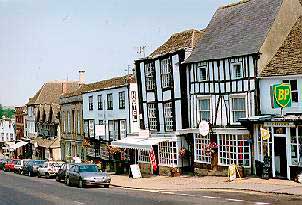 Bed & Breakfast (B&B) is a fine thing in Britain! We slept well every night and got a hearty traditional breakfast which kept us satisfied until afternoon in time for "A little something" to quote Winnie the Pooh. We often took the Five o'clock Tea in one of those small Tea rooms with a bakery in the house. In the countryside there are quite lot of them! If your nose tells you to step in - do that!!
Please, do not hurry past Burford in the Cotswolds! Rest there for a while and visit Mrs Huffkin's Bakery on the main road! Take your Tea there and buy some pastries to take along, you will not regret it!
Market Gardens sometimes have a Teapot at the gate, and if you are lost, in spite of a good map, and find a Farm with refreshments - that will make your day. It is always time for a cup of Tea!