Sweden
A country many kilometres in length but much fewer in width!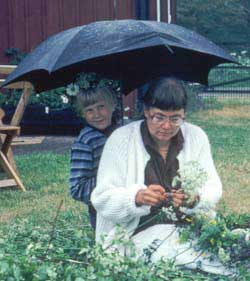 Now and then we travel in our own country. With relatives in both ends of this longish home land, the drive gives us opportunity for being tourists. Born and reared in the North (Västerbotten - Margareta) but with the paternal relatives in the South (Skåne) many a summer was spent among cousins and Aunties at their farms with cows, poultry and horses.
Midsummer in Skåne - with the traditional picking of flowers and then dance around the Maypole between the rain showers, and bathe in the sea - but swimming was impossible because we seemed to have to walk halfway to Denmark first!
These are very nice memories which sometimes are topics of conversation at revisits on celebrations and birthdays.